Le ventriloque
sound installation with 8 speakers
2011
solo exhibition Le ventriloque, Université Paris 1 Panthéon-Sorbonne, Michel Journiac gallery, Paris, 2011
Les heures

creuses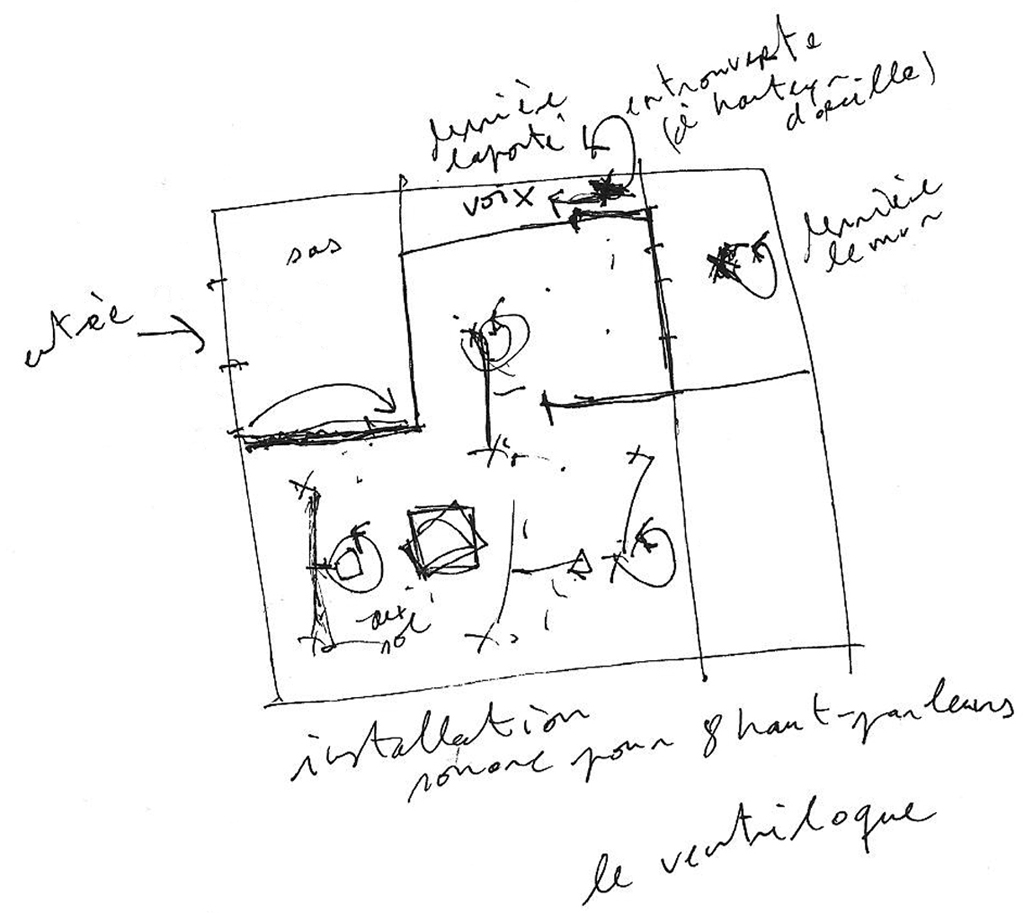 Le ventriloque is a composite work.
I cut up the gallery in five parts. One plus four. The first part, that's the entry lock: informations area (editions, texts, radio interview, video interview), before enter the installation itself.
The second part, after the protective curtain, that's the big and high room with the pillar. Several speakers on the ground for musical atmospheres, few sound flows, noises (of closing and opening) and all the resonances that the space's reverberation produces.
The third part, that's the small room in the middle, empty and dark. I use it only to keep some distance between the big room and the voices. This space plays the same part as the silence in compositions. The words area, that's the fourth part: the window behind the half-opened door. Several voices which comes from a space that we can only glimpse (except from the street). These voices open a way to narratives. As a foreground, floating figures above the previous sounds (that the listener perceives now from a small distance).
Finally, the fifth part, totally hidden, is the storage inaccessible area, for other voices without text (calls, screams, hums) behind the walls.
Several sequences, broken with silences, follow, mixing successively, depending the time and place where the listener is, music with or without noises, with or without voices.

I decide to use and leave on the ground on sight and in evidence, all the equipment found and borrowed in the various services of the University: portable players, mini stereo systems and mismatched speakers.
extrait
photos Ghislaine Périchet
---
ddd
about
– video by Ghislaine Perichet, Université Paris 1 Panthéon-Sorbonne, 2011
ddd