À la merci
sound installation with 2 speakers
2011
À la merci (Στο έλεος) – version with Greek subtitles
exhibition The last Reader – The Unwritten Library, Annex M, Megaron Concert Hall, Athens, 2018 (cur. Anna Kafetsi)
À la merci (At the mercy) – version with English subtitles
exhibition Sous l'Amazone coule un fleuve, collection FRAC Auvergne, Clermont-Ferrand, 2013
exhibition Une terrible beauté est née, La Sucrière, Biennale de Lyon, 2011 (cur. Victoria Noorthoorn)
solo exhibition, gb agency, Paris, 2011
exhibition Both, Before and After, gb agency, Paris, 2010
Les heures

creuses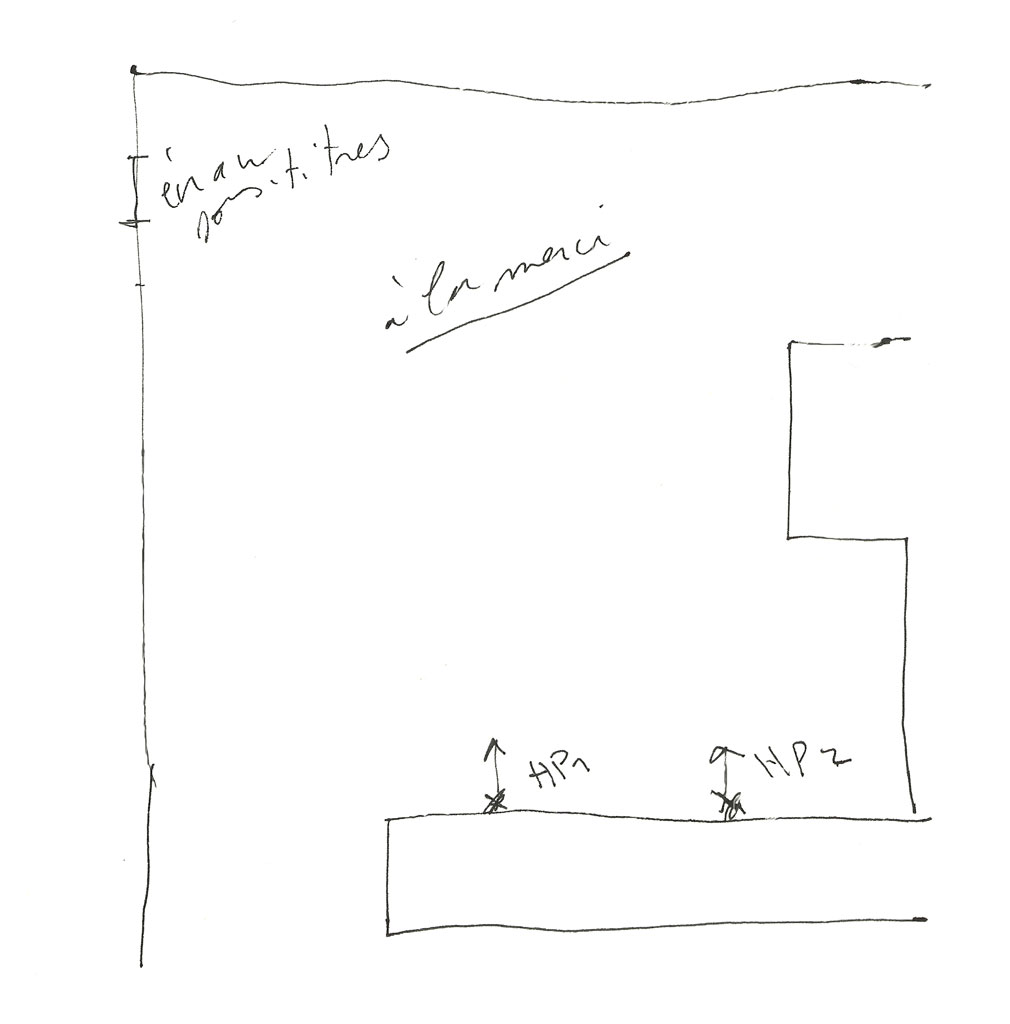 À la merci is composed by a sound recording presented as an archive. A child dictates words one by one, syllable by syllable forming convoluted sentences that are repeated by an adult voice. This audio document glides doubt over its own reliability. It takes the appearance of a crude sequence that stages an obviously unreal situation: a child barely knowing how to speak dictates long, inaudible and unreadable sentences that in their entirety sound as the writings of an artist.

version with subtitles

À la merci (Στο έλεος), À la merci (At the mercy).
In these versions for non-French-speaking countries, the sound stays the same (voices in French). At the side, on another wall, off set from the frontality of the listening, a screen broadcasts the translation of each word a visual transfer resuming the scansion, the stammering and the repetitions of the sentence under construction.
Greek translation by Annex M and English translation by Miles Hankin.

sss
ddd
excerpt
1-2-3 Biennale de Lyon, 2011 – photos Blaise Adilon / 4 FRAC Auvergne, 2013 / 5-6-7 gb agency, Paris, 2011 – photos Marc Domage
---
dddd
documents
visuals for catalogue
---
dddd
about
– video captation gb agency, Paris, 2011
– text by Dominique Petitgand, catalogue of the exhibition Une terrible beauté est née, Biennale de Lyon, 2011, Fr./En.

ffff