Exhalaisons
sound installation with 2 speakers
2009
exhibition Le domaine des murmures, Les-Saintes-Maries-de-la-Mer, 2014
exhibition FIAC Hors-les-murs, gb agency, Jardin des Plantes, Paris, 2012
solo exhibition Quelqu'un est tombé, abbaye de Maubuisson, Saint-Ouen-L'Aumône, 2009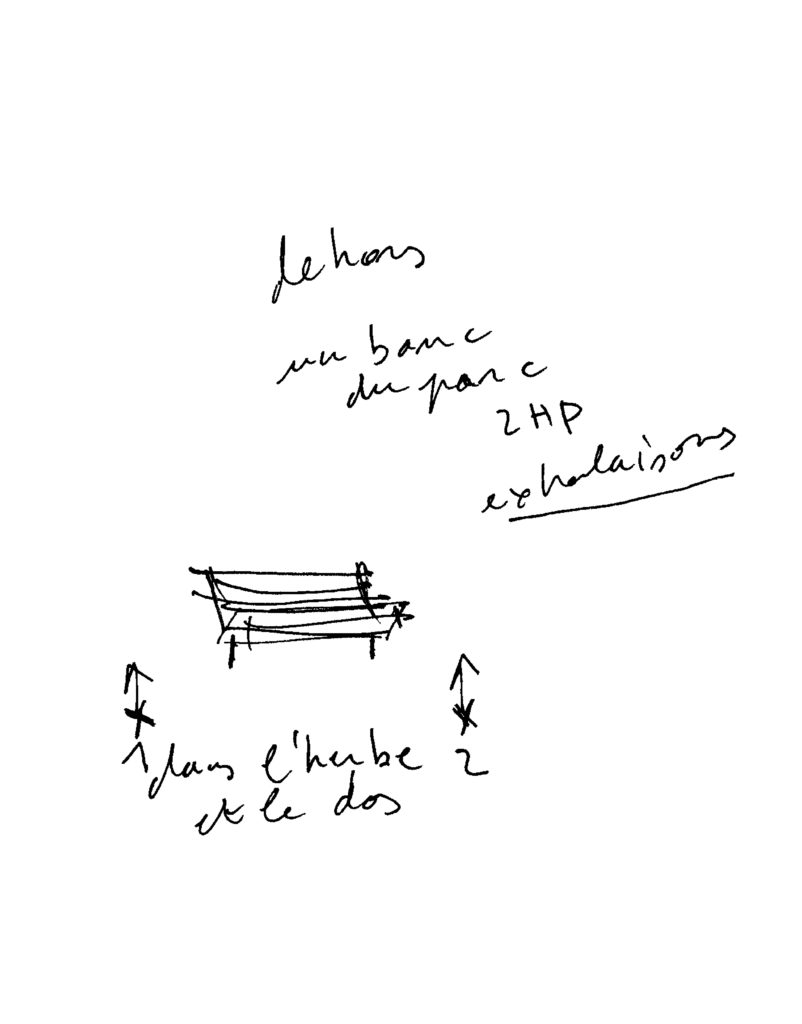 The installation called Exhalaisons is set outdoors. It is in a park and is located on a bench. Two speakers standing on the ground behind the seating audience emit sequences which last a few seconds. They are broken with silences. Each sequence, introduced and concluded by textless voices (breathing, coughing, humming), deploys a rumor, as some unstable state which adds up to the sounds which are naturally produced by the place and the urban environment.
The listening of the place (the activities in the distance, nature, the road, the trains) is aroused, favoured, all the more retrieved as it is impeded for a short while (a few seconds). The sounds of the piece which is being emitted are like stimuli, underlayers, like a skin, halfway between what is inside (the sounds of the piece) and what is outside (the sounds of the place).
excerpt
1 Les-Saintes-Maries-de-la-Mer, 2014 – photo D.P. / 2 Jardin des Plantes, Paris, 2012 – photo Magalie Meunier / 3-4 abbaye de Maubuisson, 2009 – photos Patricia Langlois / Catherine Brossais
---
dddd
about
– video captation abbaye de Maubuisson, Saint-Ouen-l'Aumône, 2009
– text by Lillian Davies, New York, press article Artforum, summer 2009, En.
– text by Marinella Paderni, press article Arte e Critica n°51, Rome, 2009, it./En.

dddd