Je m'en vais
sound installation with 5 speakers
2008
solo exhibition Un tout, dont je fais partie, L'Aubette 1928, MAMCS, Strasbourg, 2012 (cur. Camille Gietler)
exhibition 23'17, Mains d'oeuvres, Saint-Ouen, 2009 (cur. Isabelle Le Normand)
Je m'en vais (I'm leaving) – version with English subtitles
solo exhibition, gb agency, Paris, 2011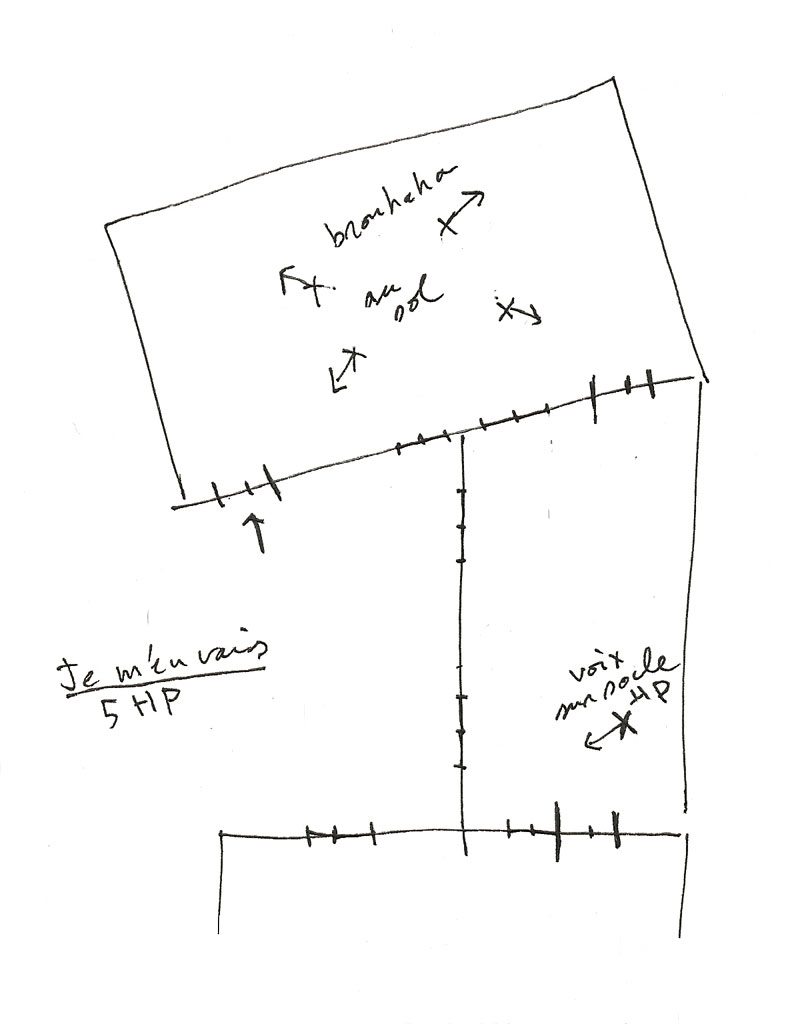 Je m'en vais is a sound installation with 5 speakers divided in two acoustic perspectives.
The formal arrangements of this installation reproduces a story: one voice, alone in the foreground, who excludes itself and in order to be freed from a whole. A child evokes a start, a runaway and tells the various points of its strategy: to gather the necessary, and slip, without being heard from others, in the opening of the door.
In the first big room (a former reception hall), four speakers standing irregularly on the ground emit broken fragments of hubbub that seem to come from a family party (shatterings of uproars, calls, slices of songs and music that are mixed with laughter). It plays with silence and the resonance of the place. Further, in the second smaller room, a speaker is placed on a pedestal at ear level and emits the voices: the child telling her story of leaving and in an other way, exhalations (breathing, coughing) which are in direct connection and synchrony with the fragments of hubbub coming from the first room that we can hear from a distance.
excerpt
L'Aubette 1928, MAMCS, Strasbourg, 2012 – photos Mathieu Bertola
---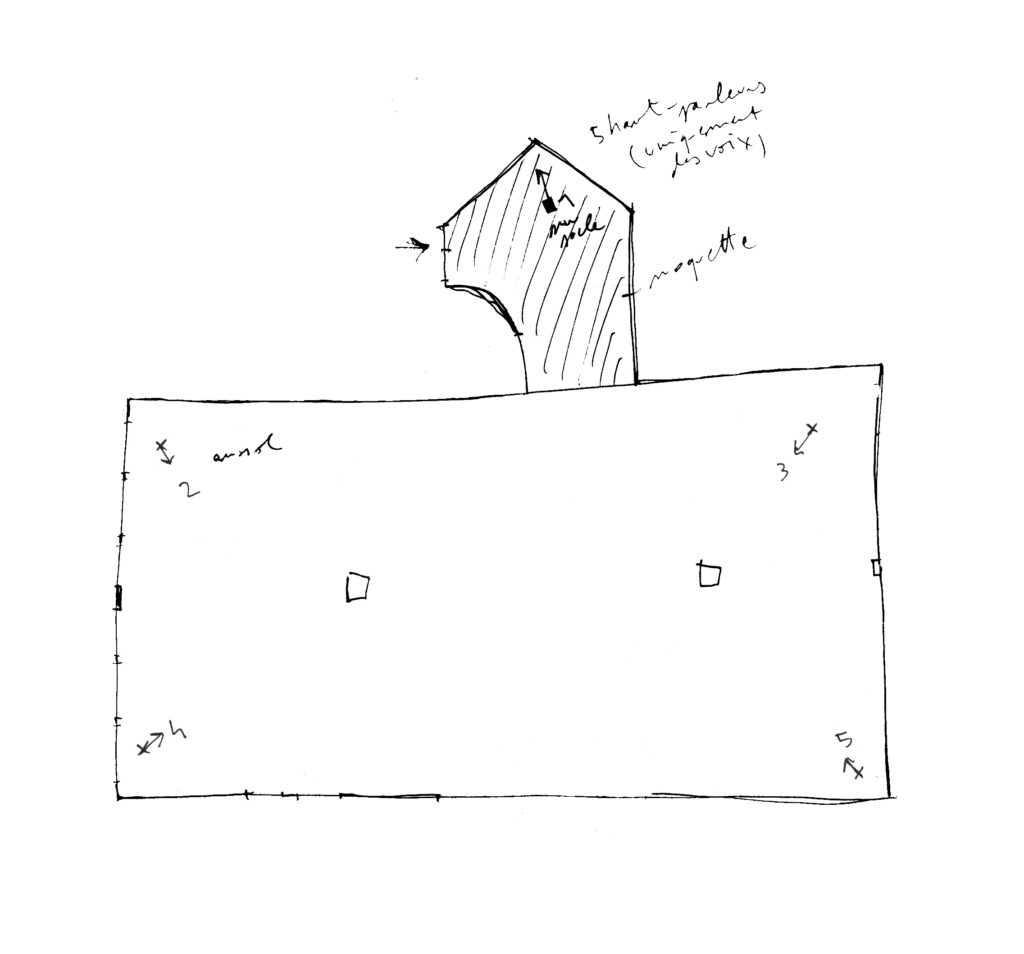 In the elbow of the entrance, a speaker placed on a pedestal emits the voices interrupted with silences. Further, at the four corners of the main space, four speakers on the ground emit the broken fragments of hubbubs sequences.

Je m'en vais is one of four sequences of the collective exhibition 23'17, conceived as a partition taking place in time. We shared the desire with the other artists (Dominique Blais, Pascal Broccolichi, and Jérôme Poret) to think together on the possible forms of a group exhibition of sound installations. Our proposal explores the conditions for listening and sharing the same space. Each work introduces a specific relation to the place, that can be perceived clearly by the series of sound pieces, successively released.
Mains d'oeuvres, Saint-Ouen, 2009 – photos 1 Vinciane Verguethen / 2-8 D.P. (4 et 6 oeuvre de Dominique Blais)
---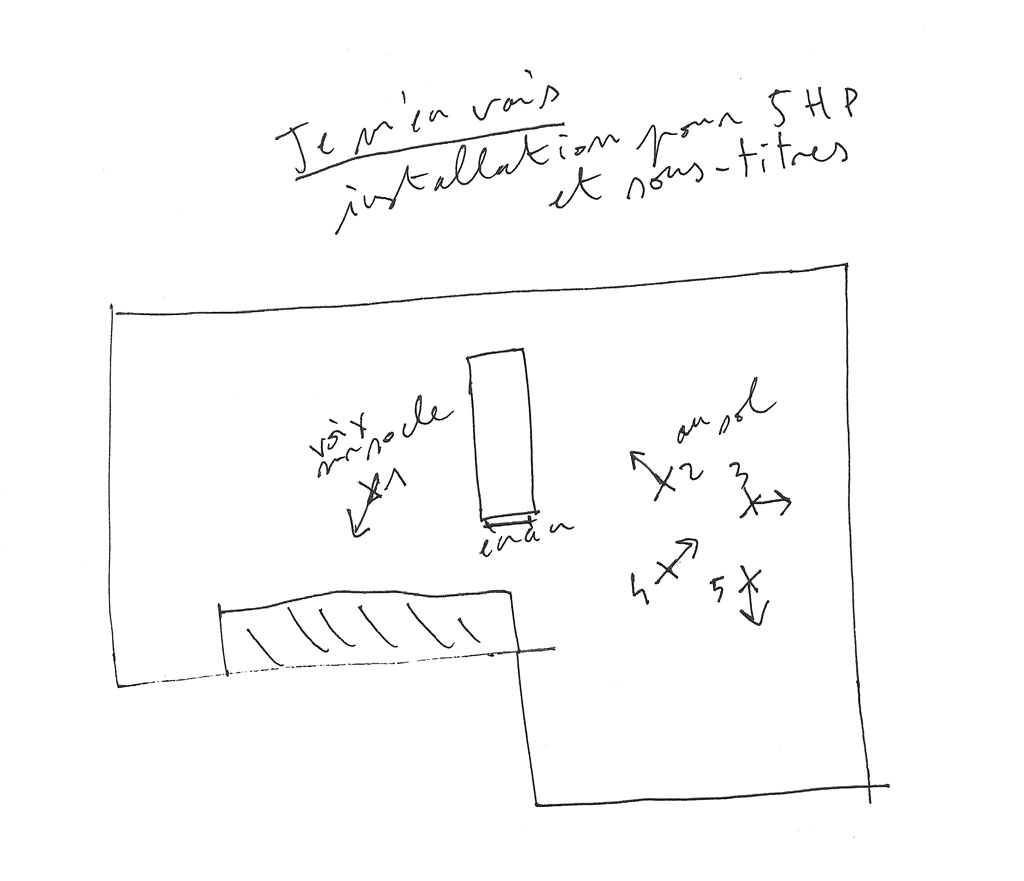 version with subtitles

Je m'en vais (I'm leaving).
In this version for non-French-speaking countries, the sound stays the same (voices in French).
On the path from the first voice to the hubbub, a screen hung on wall displays the written and synchronous translation of the words. English translation by Miles Hankin.



extrait
gb agency, Paris, 2011 – photos Marc Domage

hhh