La main coupée
sound installation with 5 speakers
2009
La main coupée (La mano tagliata) – version with Italian subtitles
solo exhibition Legami invisibili, e/static > blank, Turin, 2010

version with 9 speakers
exhibition La planète des signes, Squatteur program, FRAC Île-de-France, Le Plateau, Paris, 2009 (cur. Guillaume Désanges)
hhhhh
hhhhh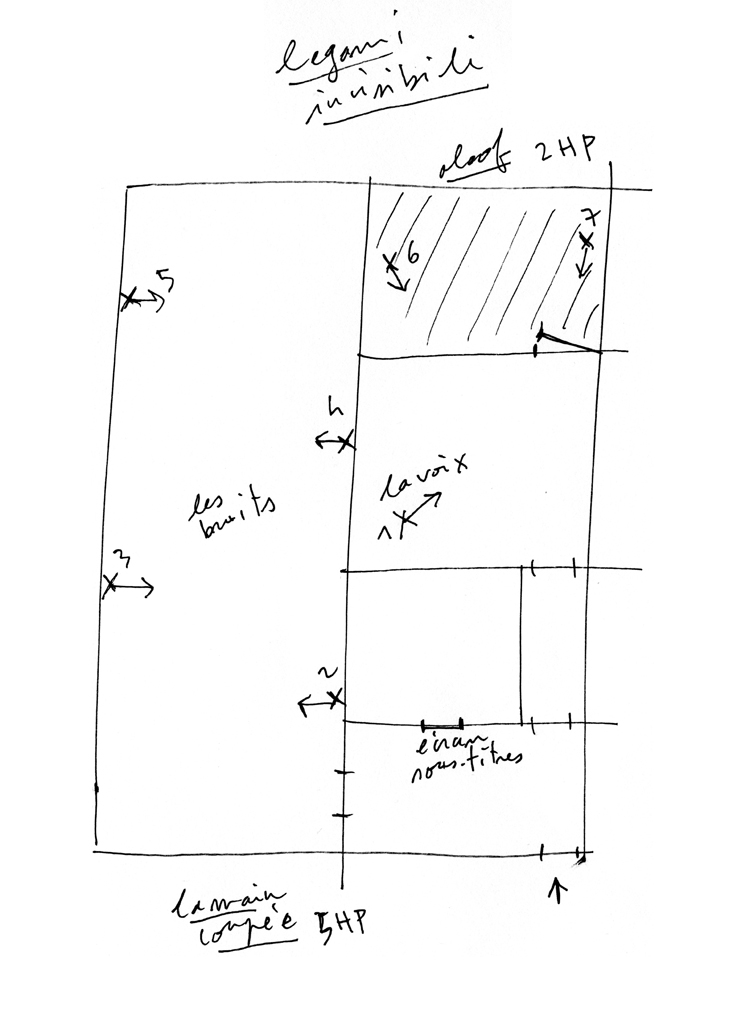 version with subtitles
La main coupée (La mano tagliata) is another version of the piece with noises Quant-à-soi and connects two acoustic perspectives: a space for the noises and a space for the voice.
Four speakers, placed on shelves on the walls of a first room, emit at high-volume a series of white parasite noises and sound interferences interrupted with silences. The appearance of each mini-sequence is a surprise, a clash for the listener. The arrangement of the speakers produced an inclusive and disturbing presence that we can't escape, but the high-volume diffusion offers to discover the richness of textures.
Further, across a hallway, in a smaller room, a privileged point that we need time to discover, an isolated speaker in the center and laid on a pedestal, emits the voice of a woman. Her dotted words mention invisible links, links between a part and a whole, a part of oneself as a hand removed. Every sentence converse with a sequence of noises diffused in the first room.
In an intermediate space, step of the way from the noises to the voice, a screen set on the wall shows the written and synchronous translation. Italian translation by Carlo Fossati.
excerpt
e/static > blank, Turin, 2010 – photos 1-9 D.P. / 10 Carlo Fossati
---


version with 9 speakers

In this version that interferes for a few days an exhibition and occupies all the spaces without considering the present works (on special request of the curator), eight speakers, placed on the floor in the corners of various rooms emit at high-volume the series of noises interrupted with silences.
Exception to the course in one of the rooms, a single speaker on pedestal (central point that we put a time to discover) emits the voice which interacts with the noises from the other rooms and the distance.


FRAC Île-de-France, Le Plateau, Paris, 2009 – photos Martin Argyroglo (with works in the exhibition La planète des signes)
---
ddd
about
– text by Claudio Cravero, press article exibart.com, Firenze, 2010, it.