La porte ne s'est pas ouverte
sound installation with 5 speakers
2008
solo exhibition Un tout, dont je fais partie, L'Aubette 1928, MAMCS, Strasbourg, 2012 (cur. Camille Gietler)
La porte ne s'est pas ouverte (The door didn't open) – version with English subtitles
solo exhibition La porte ne s'est pas ouverte, MUDAM, Luxemburg, 2009 (cur. Christophe Gallois)
Les heures

creuses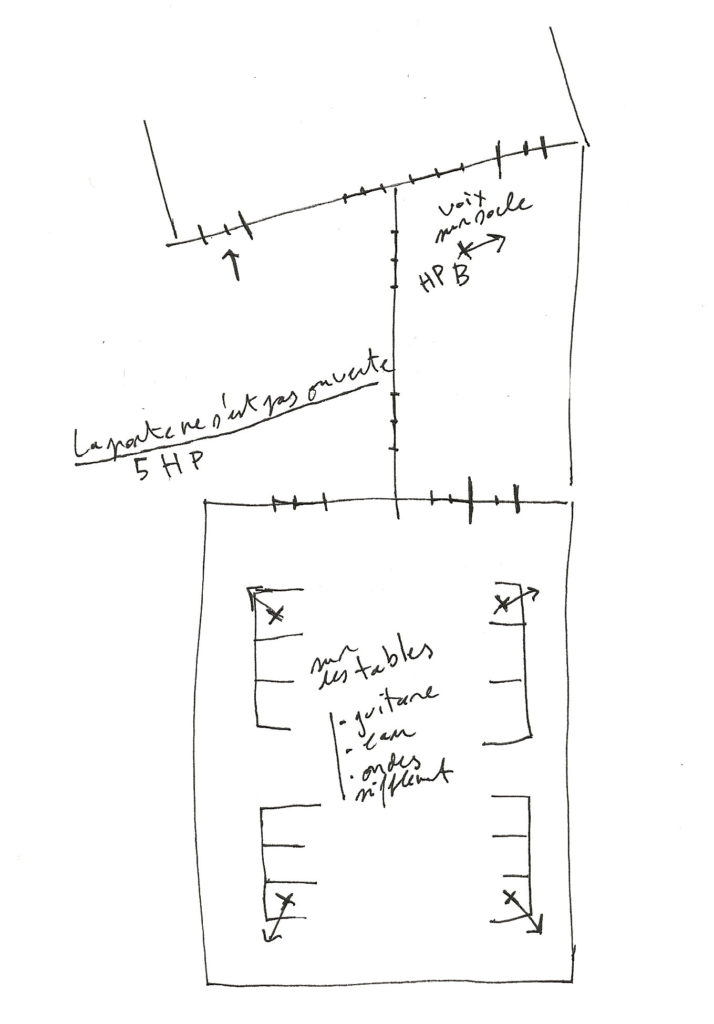 The installation called La porte ne s'est pas ouverte uses five speakers and connects two acoustic perspectives: a voice and a musical background.
In a first space, a first speaker emits a voice. It is like a dot in the space, mounted on a pedestal at ear level. A child tells a story about a moment of dramatic change: a flaw opens up and makes way to fear.
In a second space nearby, a very larger and more sonorous one, four speakers emit musical atmospheres. They delimit a field: in this version the speakers are located on table or on the ground. The reverberation makes the emitted sounds flourish.
The installation plays on the distances, the acoustic difference peculiar to both spaces and connects the voice, perceived as a figure, with the reverberated sounds, perceived as a background. When the child's story gets stuck, fear appears and the music begins. Three different musical atmospheres (shrills from an electric guitar / sharp and metallic shock waves / vibrations and pulsations) follow one another and give this fear various colours.


excerpt
L'Aubette 1928, MAMCS, Strasbourg, 2012 – photos Mathieu Bertola
---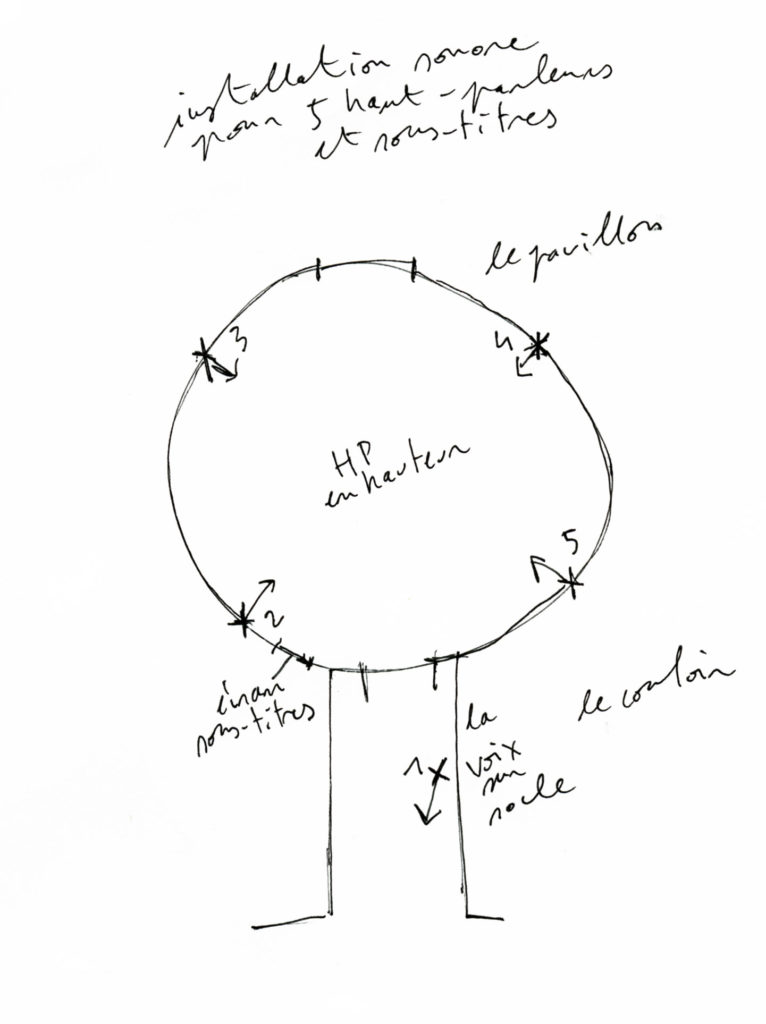 version with subtitles

La porte ne s'est pas ouverte (The door didn't open).
This version took place in the big pavillon of the Museum.
The first speaker for the voice located in a gateway corridor. The four speakers for the musics hang up high on the walls in the pavillon.
In this version for non-French-speaking countries, the sound stays the same (voices in French).
Somewhere, in the periphery, a video screen hanging on the wall shows the written and synchronized translation of the words.
English translation by Miles Hankin.



extrait
MUDAM, Luxemburg, 2009 – photos Aurélien Mole

---
fff
document
invitation card, MUDAM, 2009
---
dddd
about
– text by Christophe Gallois, guide of the exhibition La porte ne s'est pas ouverte, MUDAM, 2009, Fr./Ger./En.
hhh