La question est posée
sound installation with 14 speakers
2020
La question est posée (We're asking the question)
version with 2 screens for French and English subtitles
exhibition Anticorps, Palais de Tokyo, Paris, 2020
version with 8 speakers
exhibition Contre-vents, Le Grand Café, Saint-Nazaire, 2019
version for radio
ARTE Radio, 2020 heures creuses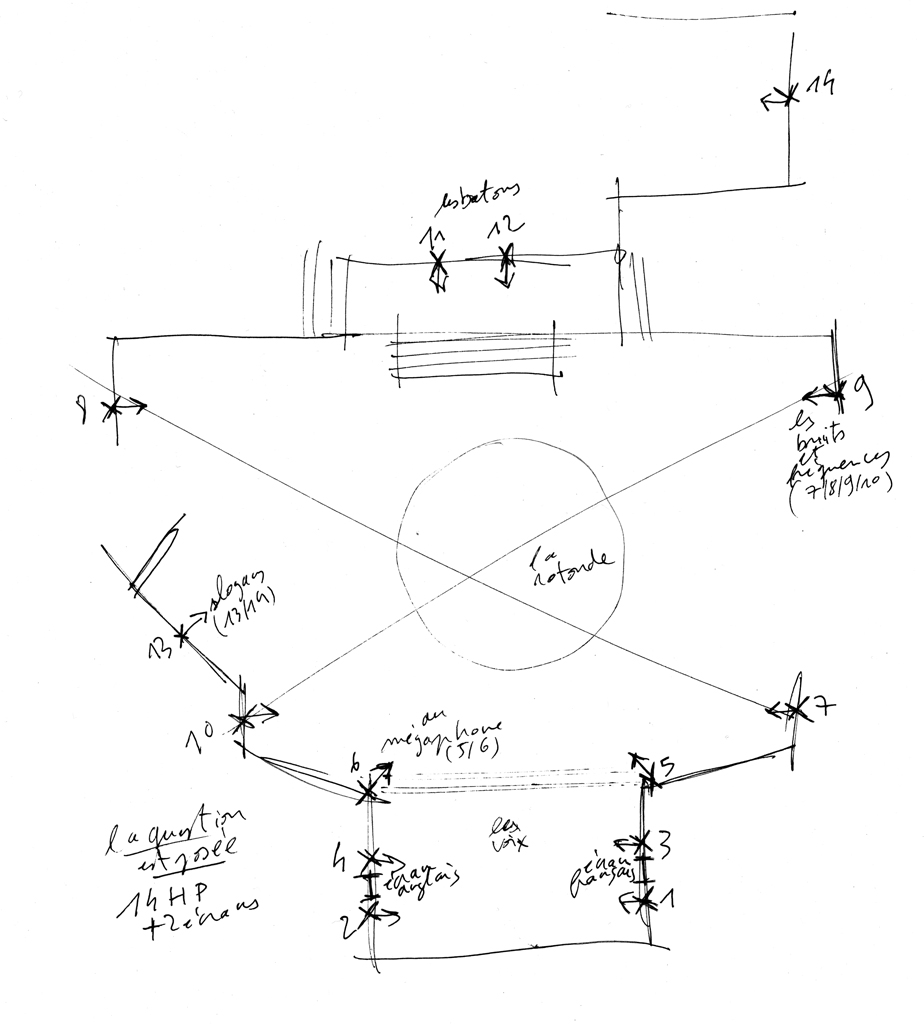 La question est posée is a work apart because the voices come from a pre-existing material that I did not record myself.
In Palais de Tokyo, the exhibition opens on a question, a question that echoes throughout the entrance in a diffuse and fragmented fashion, raised by nameless voices speaking out in witness, protest and rebellion.
I have adapted to the scale of the Palais de Tokyo (with fourteen speakers and two screens) an installation presented at the Grand Café de Saint-Nazaire in 2019 (as part of Contre-Vents, an exhibition curated by Guillaume Désanges and François Piron on the convergence of social struggles in Brittany) and afterwards reworked as a broadcast piece for Arte Radio.
The work marks a turn in my practice: I did not record the voices myself but extracted them from the soundtracks of political films dating from the 1970s to the present. While the material might be different, the method is not, I have cut and spliced fragments to create a collage of voices, a moving and musical sound piece. In the voices, energy and emotion take precedence over the understanding of what is said, now stripped of its context.
By eliminating historical reference points, the work presents us with a timeless figure of struggle. The question posed here, then, is surely that of the presence of bodies rendered invisible. Echoing with their chants, their slogans and their silences, the exhibition entrance itself becomes, as the visitors listen, an all-enveloping body in struggle.
In this version at Palais de Tokyo, fourteen speakers fixed at several height in the rotunda and a promontory emit several sound layers: anonymous, individual and collective voices borrowed from the corpus of documentary films (testimonies, excerpts from interviews, harangues and speeches with a megaphone, slogans, clamours, group demonstrations) and other abstract sounds, musical elements that I composed (wave, frequencies, metal or electric clangs).
The sound layers cut by long or short silences are scattered in space, isolated on the speakers or gathered and mixed by addition, distributing the fragments according to the full and the voids of the composition and the spatialization.

version with subtitles on 2 screens

La question est posée (We're asking the question).
On both sides of the promontory, two video screens fixed to the walls face-to-face, show the synchronous subtitles of the double transcription (French version and English version) of the sounds and the voices.
English translation by Michael Angland.
Thanks to the filmmakers and rights holders for their kind permission.
With sound excerpts from movies by Soazig Chappedelaine & René Vautier (Quand les femmes ont pris la colère – 1978), Armand Gatti (Le baille le train la moëre – 1976), Daniele Jaeggi (C'est tout pour nous et vous – 1974), Nicole Le Garrec (Plogoff, des pierres contre des fusils – 1980), Nicole Le Garrec & René Vautier (Quand tu disais Valery – 1975), Jean-Louis Le Tacon (Bretonnerie pour Kodakrome – 1974, Marche au Larzac – 1973, Voici la colère bretonne – 1976), Jacques Loiseleux (La Parcelle – 1969), Carole Roussopoulos (Les Travailleuses de la mer – 1985), René Vautier (Marée noire et colère rouge – 1978), and a recording by Bruno Serralongue at Notre-Dame-des-Landes (2016).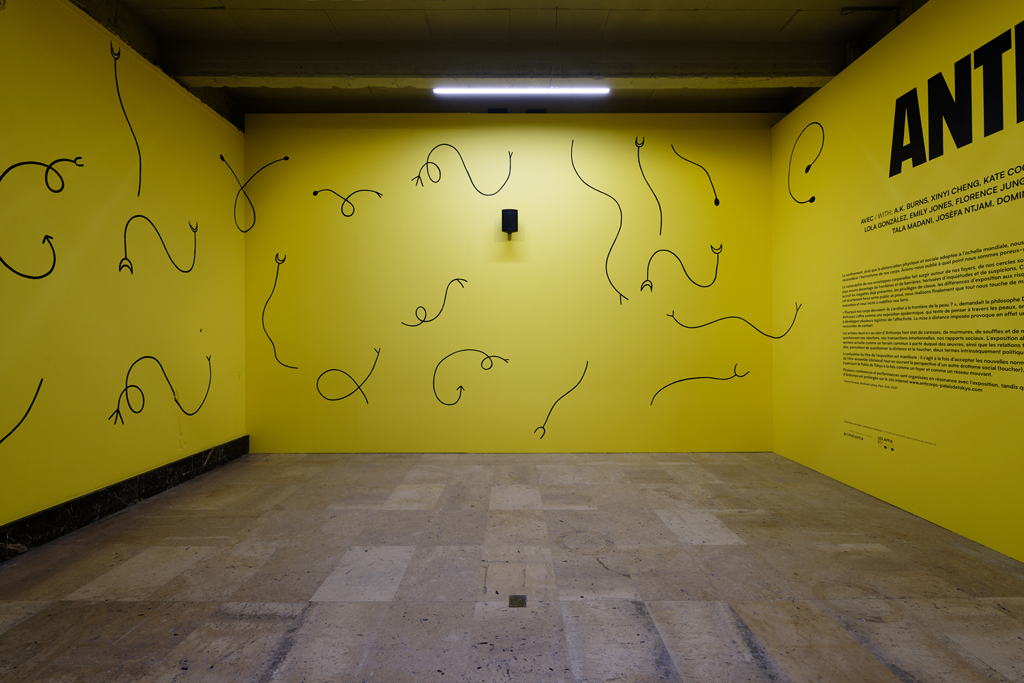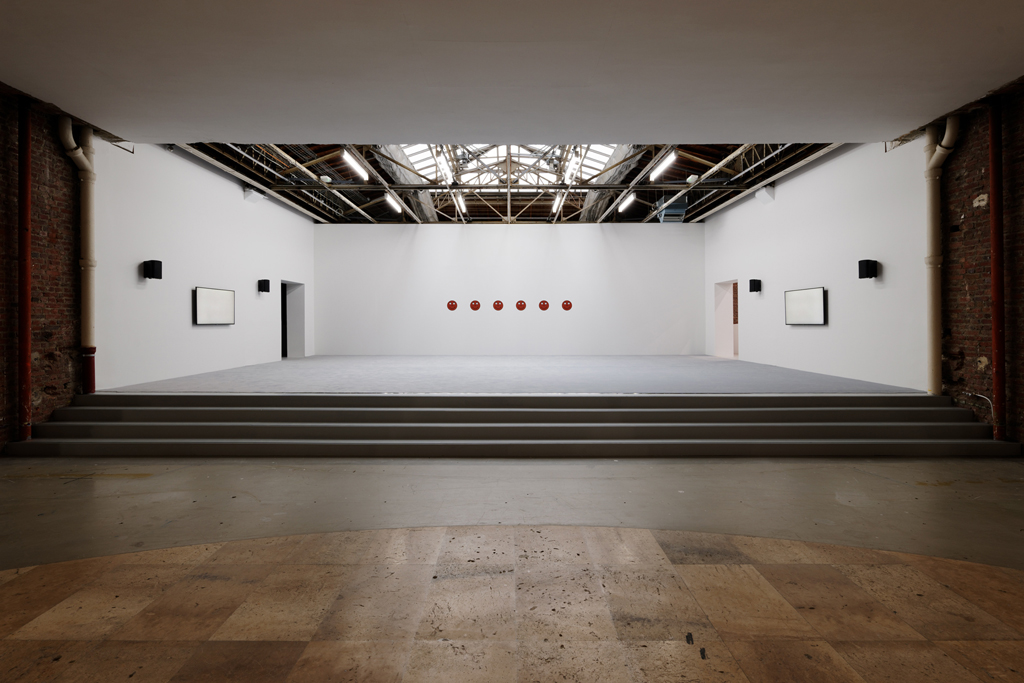 photos Aurélien Mole (6, 7, 8, 9: with work by Carolyn Lazard)
---
ffff
excerpt with screen – English version
---
ggg
excerpt with screen – French version
ddd