Mes écoutes
2017
video version (in French)
solo exhibition Documentation éparpillée, EMBA-galerie Manet, Gennevilliers, 2018
exhibition Où sont les sons ?, Centrale for contemporary art, Brussels, 2017 (cur. Nicole Gingras)
exhibition Brouhaha, Le Granit, Belfort, 2017 (cur. Mickaël Roy)
Festival Musique Action, CCAM-Scène Nationale, Vandoeuvre-lès-Nancy, 2016
solo exhibition Il y a les nuages qui avancent, CIAP, Île-de-Vassivière, 2015
solo exhibition L'oreille interne, gb agency, Paris, 2013
paper version (in French)
exhibition Ellipse, galerie Circuit, Lausanne, 2019
solo exhibition Le fil conducteur, gb agency, Paris, 2017
solo exhibition La fréquence du secteur, La Compagnie, Marseille, 2017 (cur. Paul-Emmanuel Odin)
video version

Mes écoutes is a silent work.
Hung at a wall, a video screen plays one after the other, the time required to read each of them, a series of 152 short texts in white letters on a black background. This is a project that I initiated in 2004, the set displayed is the most recent version to date, 152 texts from a work still in progress.
Each text describes how I listen in my own life. I am the listener who says I: a miraculous situation, an anomaly, an usual behavior, a memory, a state, from memory or described on the spot. Each text has a title, is at the same time autonomous and the component of a whole. This is how I always proceed: I make miniatures of which I think at the same time the autonomy and the place they can hold within a whole. A whole which builds up over the years, by addition, with no preliminary plan, no end.
This long onscreen display appears to have no beginning and no end, and is intended, unlike the sound installations that require a moving listener, for an immobile reader, seated on a bench.

1 EMBA-Manet, Gennevilliers, 2018 – photo Margot Montigny / 2 La Centrale, Bruxelles, 2017 – Philippe de Gobert / 3 CIAP Vassivière, 2015 – Aurélien Mole / 4 gb agency, 2013 – Marc Domage
---
fff
paper version
Each of the 152 text is printed on a A4 piece of paper. The whole gives form to a pile without joint lying on a table or a display stand and in open consultation.

dddd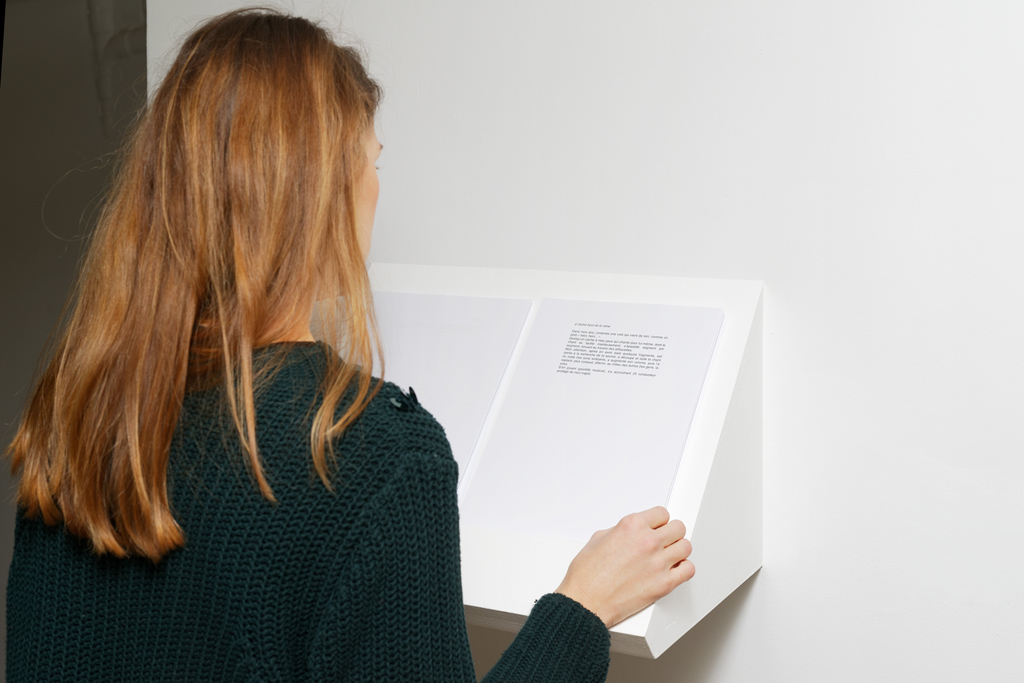 1 gb agency, 2017 – photo Aurélien Mole / 2 La Compagnie, Marseille, 2017 – Mathieu Mangaretto
---
ggg
excerpts from video version
hhh
---
fff
about
– interview with Églantine Mercarder, press release exhibition Le fil conducteur, gb agency, Paris, 2017, Fr./En.
---
ddd
excerpts published in magazines, books or catalogues
– book Mes écoutes, Éditions B42, 2022, Fr. (complete edition)
– book Une idée du Nord, by Pascale Cassagnau, Beaux-Arts de Paris éditions, 2015, Fr.
– book Sommeil léger, co-edition EPCC ESBA TALM site d'Angers/Le Gac Press, 2014, Fr.
– book La tentation du son, directed by Kaye Mortley, Phonurgia Nova, 2013, Fr.
– magazine Le Quai n°15, École Supérieure d'Art de Mulhouse, 2008, Fr.
– catalogue of the exhibition Small Various Fire, Royal College of Art, London, 2007, En.
– Revue & Corrigée n°69, 70, 71, 72, 2007, Fr.
– Journal des Laboratoires d'Aubervilliers – Special Issue, 2007, En.
– Journal des Laboratoires d'Aubervilliers, 2006, Fr.