Mes écoutes
book
2022
éditions B42, Paris
collection Sentiers directed by Mathilde Villeneuve
in bookshop ou by order
Les heures

creuses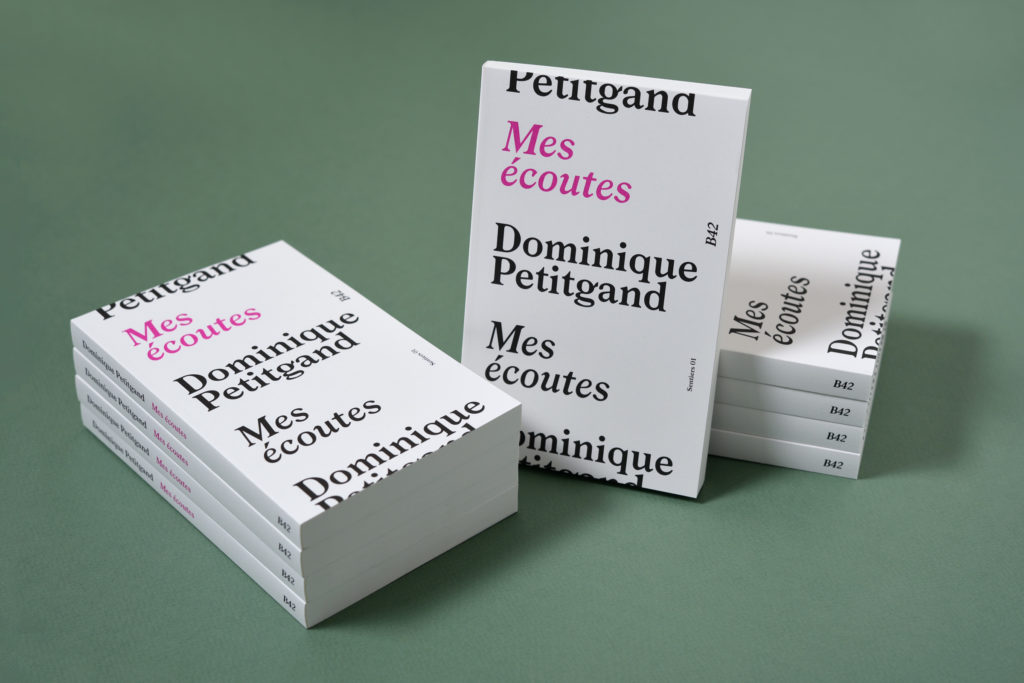 texts by Dominique Petitgand
graphic design deValence
French

107 x 169 mm
176 pages

diffusion and distribution
LES BELLES LETTRES
ISBN : 978-2-490077-66-3
12 €

eee
ffff
First issue of the collection Sentiers directed by Mathilde Villeneuve,
Mes écoutes is a project started by Dominique Petitgand in 2004,
in parallel with his work of sound creation. Gathering texts unpublished
or having been initially diffused in exhibitions or during performances,
this work constitutes its most complete version. 
Through these 170 short texts, Dominique Petitgand describes how,
in various situations of his daily life, he listens. Similar to a crossing
of places and times, this evocation of sounds in their absence constitutes
a possible fiction around a few themes: the course of a day from waking
to sleeping, domestic or urban listening, travel, the rules of conversation,
inner music, or sound obsession. For each of the situations described,
the context, the moment, the circumstance but also the mental or physical
disposition of the person listening, are as important, if not more so, than
the description of the sound itself. This collection thus makes room
for the unrepresentable sound and prefers to shift the reflection
on its effects and its reception rather than on its description.
It thus concentrates on a point of detail, resonances, resemblances,
or is sometimes satisfied with simply stating a question.
Particular attention is then paid to what is indirect, is at a distance,
or is revealed after the fact.
dddd
excerpts